You may not think winter and swimming pools go together, but they do in Central Florida. In fact, it is the best time to start building one in your backyard. The typical swimming pool takes around 6 to 8 weeks to complete. Getting started now means it will be ready before Spring rolls around.
Here are a couple of reasons why now is a good time to start construction on your new swimming pool 
Permits Can Be Time Consuming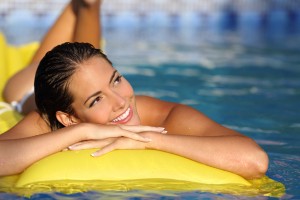 Having a swimming pool install requires getting building permits. HOAs usually require their own approval before construction even starts. Spring is when the permit office is the busiest, you can end up waiting several weeds to get the proper approval. Planning during the winter gives you plenty of time for the permits. 
Unforeseen Obstacles 
Delays can happen on any construction project. It could be a big boulder, poor weather, or even a material issue. By starting early you don't have to worry if your backyard oasis will be done by Spring.  With our warm climate, you probably won't have to wait that long!
Get a Jump Start
Contractors are usually busier in the Spring and Summer months. Which means you will have to get in line and wait your turn. Contracts will have more time to spend on your project and since it's not so hot outside, they will enjoy the work. 
Lush Landscape 
Having your swimming pool constructed in the winter means the newly planted landscape features will look amazing by spring.  The trees, shrubs, and grass will have time to get well established.
More Swimming Time
By the time warm weather rolls around you will be able to enjoy your new backyard oasis. Diving into the water and relaxing by the pool.
Stop Dreaming About Your New Swimming Pool And Get Started On Making It A Reality! 
Dreamscapes Pools and Spas is ready to make your dream pool a reality. Explore our gallery page for inspiration.