If you want the backyard swimming pool of your dreams or an amazing commercial pool that will WOW potential renters or buyers, it is crucial to work with a builder who is at the top of the industry, one who has the experience and reputation for excellent work.
Dreamscapes Pools and Spas award winning design consultants work directly with you in a relaxed, no pressure environment to create your perfect backyard getaway. Our design and construction team has over fifty years combined experience and provides the highest level of communication and attention to detail throughout every phase of your project.
Why Choose a Concrete Swimming Pool?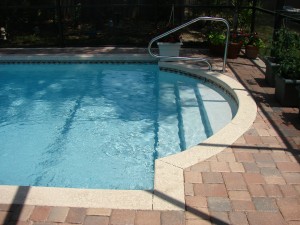 There are many types of swimming pool on the market, what is so special about concrete or gunite? The fact is, the benefits of concrete pools just can't be matched! 
Concrete swimming pools give you the freedom to choose any size, shape and depth. If you want to create a unique space concrete is the only way to go. 
For instance steps, not something you may have given much thought to, but make a big impact. Wide steps are easier for everyone to navigate, they can be wide enough for a lounge chair or a children's play area. Other features include waterfalls, rock formations, slides, ledges, an attached spa, seating inside the pool, practically anything you can think of. You definitely can't get these types of amenities in a prefab type pool. 
Longevity and Durability 
Concrete swimming pools bring value and aesthetics to any property, giving you the most bang for your buck.  They last for many decades and are incredibly durable. They typically don't need much maintenance, no matter how much wear and tear they endure. 
Dreamscapes Pools Construction Team is dedicated to making your dream pool a reality. Our skilled craftsmen use only high quality, long lasting, and efficient materials to construct your swimming pool.
We'll work together to design an outdoor living space that reflects your own personal style, taste, and budget.