When you think about the amenities for the construction of your backyard pool, it can be overwhelming. With so many popular trends to choose from, a sun shelf definitely needs special consideration.
What exactly is a sun shelf?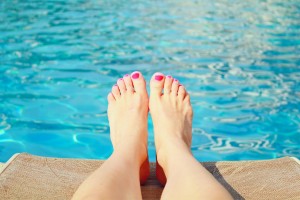 Though once exclusive to high end hotels and exotic resorts, sun shelves are becoming a very popular addition to backyard pools. They are also called tanning ledge or Baja shelf. Typically sun shelves are in the shallow end of the pool, large enough to fit a couple of lounge chairs and maybe an umbrella. They come in a variety of sizes, a popular depth is 10 inches, and range from anywhere between 5 and 8 feet wide and 12 and 18 feet long. They can be easily customized and fit any shape pool.
Sun Shelves are both practical and beautiful
The large shallow area is perfect for a lounge chair, to relax in the pool without getting all the way in. A popular place to do yoga, children love playing on it, older adults don't have to struggle to get in and out of the pool, and pets can also enjoy the water.
Customize your sun shelf
Make your pool unique by adding bubblers or a fountain to your sun shelf, add a built in umbrella, LED lighting, change the spillways that flow from the sun shelf, or customize it with a border or tiles.
Take Your new swimming pool to the next level
A sun shelf can transform your new in-ground swimming pool into a resort style oasis. The team at Dreamscapes Pools and Spas can help you envision how your new sun shelf will look in your pool with a 3D design software. We'll work together to design an outdoor living space that reflects your own personal style, taste, and budget.
As a leader in the Florida Swimming Pool industry, we would be happy to answer any questions you may have. Just contact Dreamscapes Pools and Spas.