Having a swimming pool built in your backyard is easier and more affordable than ever! But more importantly, it creates lasting memories,  fun family water games, entertainment with friends, relaxing afternoons, and the best place to cool off on those hot summer days.
Cost Of A New Swimming Pool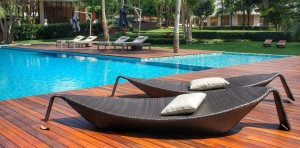 With today's technology building an in ground swimming pool is not as expensive as it once was. It is also an investment that will increase the value of your home and your quality of life. The cost of building a pool is affected by the size, upgrades, finishes, and water features. A free form pool generally doesn't cost any more than a geometric design, rectangle or square, it may even cost a little less.
Swimming Pool Equipment 
Many homeowners are concerned that the pool pumps and equipment may be expensive to operate. This may have been true back in the day, but today's technology has created energy efficient pumps with programmable timers and variable speeds. This is about a 70% savings in operational costs.
Swimming Pool Maintenance 
How much time is invested in maintaining a swimming pool has also come into question when homeowners are thinking about purchasing a pool. The fact is, after you understand how everything works, it usually only takes 30 minutes a week.
Many potential pool owners are considering a salt water pool because they are natural and don't have any chemicals. A salt water pool system uses a salt water generator to produce chlorine. The water will still need to be routinely tested, number of swimmers, temperature, rainfall and sunlight, all affect the rate of chlorine loss.
Choosing A Swimming Pool Builder 
An in ground swimming pool is a great addition to any backyard. It is important to have an experienced pool builder who can help you with any questions and decisions.
Dreamscapes Pools and Spas is Central Florida's premier pool builder, from Tampa to Brevard County, Palm Coast, New Smyrna, and Orlando. We have built our reputation on experience, quality, and unparalleled customer service. Our award winning design consultant is happy to help you achieve the backyard of your dreams.
Contact Dreamscapes Pools and Spas for a quote, we are sure our pool construction and design will exceed your expectations.