On the fence about having a swimming pool built in your Central Florida backyard? It's the American dream, but it is a big investment. If you ask any pool owner if it is worth it, no doubt they would yes!
Here are just a few reasons why owning your own swimming pool is worth the investment 
A Healthier Life Style 
Just looking at water has a calming effect that affects our mind, body, and soul.  A recent article in Life Hack, "Science Explains How Staying Near Water Can Change Our Brains,"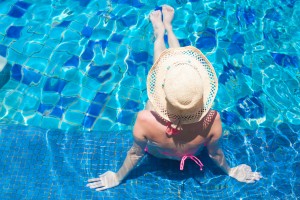 Looking at water and listening to its sound puts our overloaded minds into a relaxed and hypnotic-like state with the benefit of this being a different way that our brain processes thoughts, leading to more calm and creative states and an increase our well-being.
Even simply observing the movement of water causes our minds to calm. This has numerous benefits for contributing to lowering depression, lowering stress levels, anxiety, and promotes better mental clarity and sleep patterns.
Spend More Time At Home With The Family
Just imagine, you can do your exercise at home, kids will want to spend more time at home, swimming pool are perfect for entertainment, they can even invoke inspiration and creativity.
When we're near water, our brains switch off from busy mode to relaxed mode. This naturally leads our brains to open up because it's not focused on the millions of thoughts swirling around that can often lead to stress or anxiety. When your brain is in this relaxed state, it is open more to inspired and creative thoughts. In essence, we are switching our brains off or giving it a rest from the norm causing a better mental environment for insight and introspection.
If you are still on the fence about having a new swimming pool built in your backyard, contact Dreamscapes Pools and Spas. Our 3D computer technology will give a good idea of how a pool will look in your yard. You also may be surprised just how affordable the backyard oasis of your dreams is to obtain.