Now is the time to get your slice of paradise, with the backyard swimming pool of your dreams. While our friends up north are getting ready for a bone chilling winter, we are relaxing pool side.
There has never been a better time to have a swimming pool built. Today's technology allows for a better design, installation, easier and more efficient maintenance.
A concrete or gunite swimming pool allows for an unlimited design options. So, that backyard oasis you've always envisioned can be a reality. Customize the shape, size, and all the amenities.
Swimming pools are great for today's day and age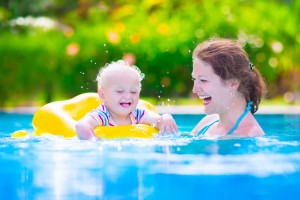 Everyone loves the water
Water has a calm, relaxing effect. A recent article in the Huffpost, 'Why Water Makes Us Feel Calm' said, "People who float– relaxing in pools of still, tranquil water — often register a change from more active brainwaves to theta brainwaves. Beyond relaxation, these slower waves are credited with unleashing a flow of creative ideas."
Everyone loves the entertainment of a swimming pool 
From kids to adults and even pets, love playing in a pool. It is a great way for family and friends to spend time together and entertain guests. Or even spending some quality quit time with a book, distressing from our fast paced lifestyle.
Now is the time to dive into your new swimming pool
Dreamscapes Pools and Spas professional design team will listen to you and create a design, using the latest 3D design software that meets your budget. If you are looking for a simple budget friendly swimming pool or an exotic backyard resort pool, we have the talent and experience to make your space remarkable at a price you can afford.
Our design and construction team has over fifty years combined experience and provides the highest level of communication and attention to detail throughout every phase of your project.
Contact Dreamscapes Pools and Spas for more information and a free quote.