Start the New Year off right, with a 5 star tropical resort style swimming pool in your very own Central Florida backyard! Relax like you're on vacation everyday and absorb the sun's rays in your very own paradise.
Studies show in 2019 Staycations will be on the rise! You will be able to sit back and escape the stress of everyday life, and enjoy your time without ever leaving your home or putting a dent in your wallet.
No more fighting the traffic, waiting in lines at the airport or crowds at the amusement parks, customize your very own paradise just outside your back door.
In your own family oasis privacy is never an issue. You won't have to worry about the children or loud guests.
Creating your own Personal Oasis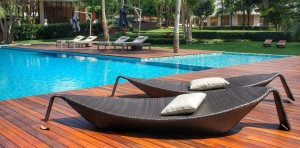 Creating your personal oasis is easier and more affordable than ever with the latest 3D design technology from Dreamscapes Pools and Spas. We walk you through the process, you can actually see what your new pool will look like, ensuring all the upgrades and amenities are exactly what you want. This alone can save a significant amount of money during the construction phase and in maintenance cost.
Save even more money 
Salt water pools are all the rage! Salt water pools reduce operational costs and maintenance, since you won't have to worry about adding chlorine to the system. It is also easier on the swimmers' eyes and skin.
Pool filters and pumps have also come a long way over the last decade. The newest technology will have your pool crystal clear, with lower monthly operational costs, and a quieter more efficient system.
Dreamscapes Pools and Spas is proud to be a leading pool service in Central Florida. Our award winning design consultants work closely with each of our clients to ensure their dream oasis is achieved. The construction of our pools and spas are renowned throughout the industry for our exceptional quality, amazing architectural details, and beautiful decor.
Contact Dreamscapes Pools and Spas, we are sure our pool construction and design will exceed your expectations.