Ready for an in-ground swimming pool in your Central Florida back yard? Before you dive into your dream oasis, here are a few tips to make the journey just a little easier.
Create a Wish List 
You've been thinking about having your very own backyard swimming pool for years. You may already know what you want. But a little bit of homework, gathering ideas, and researching the latest technology, can ensure you get the pool of your dreams. When you speak with the design team at Dreamscape Pools and Spas they can finalize all the details and make your dream a reality.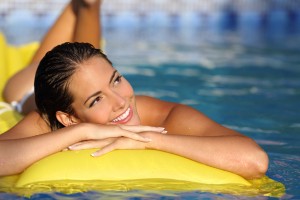 How Will You Be Using The Pool
A relaxing retreat with the tranquil sound of a waterfall, a vanishing edge, and glass tile. If the pool is going to be for the kids, a splash pad, wading area, beach entry and a slide would be tons of fun. If it is for entertaining or even an investment, you may want a beautiful water feature, a fire feature, and a negative edge would really create a dramatic ambiance.
Eco-Friendly and Energy Efficient
Today's technology has made in ground swimming pools more cost efficient than ever. Lighting timers and pumps can save tons of money in energy savings. Natural alternatives have replaced many harsh chemicals and attached ponds can be used to help filter the water.
Water Features and Final Touches
You may have a budget, but don't skimp on the things you really want, adding features after the pool is complete can end up costing significantly more. Everyone enjoys water features, from bubbling fountains, fun spouting fish, to elegant rock waterfalls, they are all easier to install when the pool is initially being built.
If you are thinking about investing in a new pool or updating your existing one, contact Dreamscapes Pools and Spas. We can help incorporate your favorite features in an amazing backyard oasis while staying on budget!
Contact Dreamscapes Pools and Spas today for your backyard oasis!