Just about any backyard in Central Florida can have a beautiful backyard swimming pool, the right pool builder makes all the difference! 
Dreamscapes Pools and Spas is proud to be a leading swimming pool builder here in Florida. We are dedicated to making your dream pool a reality. Our skilled craftsmen use only high quality, long lasting, and efficient materials to construct your swimming pool. Our design and construction team has over fifty years combined experience and provides the highest level of communication and attention to detail throughout every phase of your project.
They are called plunge pools, spa pools, cocktail pools, lap pool, and spools. What are they? A smaller version of a full size or traditional swimming pool.  Just as beautiful and all the benefits, just not taking up as much space. They also won't break the bank!
Perfect for cooling off, relaxing, wading, exercising, entertaining, and of course, having a great time with friends and family.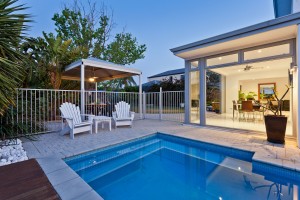 Great for a smaller backyard. They can even have jets to provide massages. The lower cost is a big benefit for the homeowner.
The smaller size means reduced water requirements, easier maintenance, and less expensive to heat. You can also take them a step further with the addition of lighting, beach entry, infinity edge, jets, and water features.
Don't worry, they can still pack a punch by adding ambiance and the tropical oasis feel to your backyard. As well as increase your home's value.
Choosing the right construction material for your new swimming pool can be confusing. Which one will give you the most bang for your buck, is durable, and looks amazing?
Dreamscapes Pools and Spas is proud to be a leading pool service in Central Florida. Our award winning design consultants work closely with each of our clients to ensure their dream oasis. We listen to you and your family's needs to ensure a perfectly functional and beautiful backyard swimming pool. The construction of our pools, spas, and outdoor kitchens are renowned throughout the industry for our exceptional quality, amazing architectural details, and beautiful decor.
Contact Dreamscapes Pools and Spas, we are sure our pool construction and design will exceed your expectations.