A backyard swimming pools are amazing, especially here in Central Florida. There's no better way to relax and cool down. It is also a great way to get some exercise, entertain the kids, add value to your home, and create a tranquil oasis. 
Creating that tranquil environment starts with choosing a water feature. When you are building your new concrete swimming pool, don't underestimate how much a water feature adds to that dream oasis. 
Waterfalls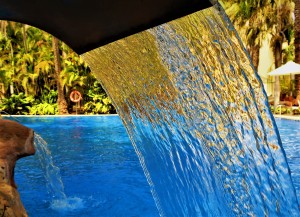 There is no doubt, there are a number ways to incorporate a waterfall feature into the design of a new or existing swimming pool. Their relaxing feel is why their popularity has grown significantly in the last couple of years. 
Waterfalls come in a wide variety of designs and types, including stacked rocks (built with faux or real boulders),  a sheer descent, rain curtain, fountain, bubblers, sconce, statuary, spillover spa, deck jets, and scupper, the list goes on and on. 
Deck Jets and Gushers 
If you are looking for an affordable way to create that tropical oasis feel, jets, gushers, and bubblers are perfect. With a large selection to choose from, they typically shoot water vertically with adjustable widths and arc heights. They have become very popular in the shallow end of the pool or on the tanning ledge. Great for young children and adults who want to cool down on a hot day. 
Sconces and Scuppers
Anther affordable way to create that tranquil oasis are with Scuppers and sconces, typically seen as decorative pieces on a wall. With water pouring out or over the side, creating that sound of soothing water. 
Spouts and Fountains 
Fountains and spouts can be as elaborate or simple as you want, which also affects the cost. An entire wall of cascading water or a few beautiful pots, both offer tranquil visual and sound effects. 
If you are ready to have that backyard swimming pool of your dreams, then contact Dreamscapes Pools and Spas. Our award winning design team and latest 3D technology makes it easy to ensure you get the perfect backyard oasis.