If you're thinking about having a swimming pool build in your backyard, cost plays a big factor. There are several building materials to choose from a vinyl liner pool, fiberglass, or gunite (also known as shotcrete or concrete). They all come with their own set of benefits, but as the old saying goes, "you get what you pay for", really comes into play when it comes to swimming pools. 
Gunite swimming pools may cost a little more than the other materials, but it is well worth the investment. 
Why choose a gunite swimming pool?
Home Resale Value
A backyard gunite swimming pool becomes an extension of your home. An addition that adds significant value of your home.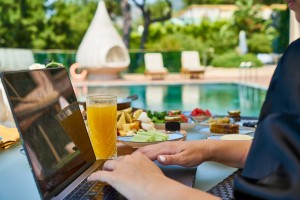 HGTV "Does A Pool Add Value to a Home?", Real estate experts estimate that an average 14×28-foot inground concrete pool potentially adds 5 to 8 percent to the real estate value of your home. If your property is worth $400,000, you'll realize a boost to the value of your property of about $20,000 to $32,000. But the average cost of installing a 14×28-foot inground concrete pool is about $50,000, which means you'll only recoup a portion of your original pool investment."
Backyard Ambiance and Fun
A gunite swimming pool completely transforms your hum drum backyard into a luxurious oasis. "It may be that you and your family get so much enjoyment and satisfaction from your pool that recouping your investment is a moot point. Hard to put a price on summertime splashes and smiles."
Durability & Longevity
You won't have to worry about replacing or dealing with rips or tears. Concrete is incredibly durable, it will last several decades.
Your Unique Style 
With limitless design styles, from the shape, finishes, and amenities. You can truly build your dream backyard. If you have a small backyard or an unusual shape, don't worry, a concrete swimming pool can be any size or configuration.