As we head into fall here in Central Florida, you may not be thinking about a new swimming pool, but maybe you should. In fact, this time of year may be the best time. You can definitely get more bang for your buck! 
The Latest Swimming Pool Trends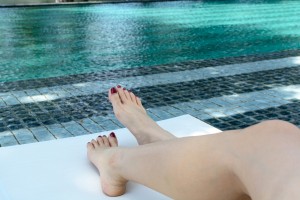 The latest 3D computer technology allows you to get exactly what you want.  It is easy to change and move things, ensuring you are getting the finished product that you've always dreamed of. 
Colors are very big now, more and more people are turning to darker colors for their interior pool finish. Creating that relaxing and natural feel with deep grays, blues and even black. They are inviting and blend seamlessly into the rest of the backyard and landscaping. 
Rustic stones are also on the rise. They add a tranquil natural feel. Small, smooth stones can be used in the plaster finish, a rock wall, and waterfall can all transform the look of a swimming pool. 
A popular element is the Sun Shelf. A shallow area just a few inches deep. It is very functional from toddlers splashing around to adults lounging and working on their tan. 
Swimming pools with a single depth are very popular. Instead of a gradual increasing in depth in the traditional pool, a single depth can be more optimal.  Great for water working out, aerobics, and swimming laps. 
Pool automation has really come a long way. The latest technology makes it easier to keep your pool clean, proper chemical levels, monitor the water temperature, even remotely activate your cleaning system. That's right, you can turn the maintenance over to technology, via your smart phone or device, and by the time you get home it is ready to dive right in! 
Dreamscapes Pools and Spas is proud to be a leading pool service in Central Florida. Our award winning design consultants work closely with each of our clients to ensure their dream oasis. We listen to you and your family's needs to ensure a perfectly functional and beautiful backyard swimming pool. The construction of our pools, spas, and outdoor kitchens are renowned throughout the industry for our exceptional quality, amazing architectural details, and beautiful decor.
Contact Dreamscapes Pools and Spas for a free quote