Most of us missed going on vacation this summer. Relaxing in a beautiful swimming pool, soaking up the warm rays of the sun, kids playing in the water, the feel of paradise! 
Don't wait any longer, you can have your very own 5 star tropical resort all year round right in your own backyard.
Since traveling has become unpredictable, Staycations grew significantly over the last couple of months, and we don't know when things will get back to normal.  A backyard swimming pool will allow you and the family to escape the stress of life and relax in the comfort of your own home.
Your Backyard Oasis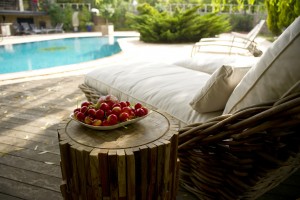 Just by adding a few features you can turn an average pool into 5 star personal resort! Maximize your relaxation time with a soothing fountain or waterfall, laminar jets, or even a sun shelf and zero entry for that resort atmosphere.
The cost of a great vacation at a tropical resort can make a big dent in the wallet.  A backyard swimming pool is less expensive than you think, it also increases the value of your home and creates memories that last a lifetime.
Now is the time to get started planning your new swimming pool
It's time to start planning that backyard swimming pool and spa you've always wanted! Improved construction techniques and new technology have made swimming pool design more luxurious, functional and enjoyable.
There is a lot that goes into the planning a backyard oasis, the Dreamscapes Pools Construction Team is dedicated to making your dream pool a reality. Our skilled craftsmen use only high quality, long lasting, and efficient materials to construct your swimming pool.
Our design and construction team has over fifty years combined experience and provides the highest level of communication and attention to detail throughout every phase of your project.
Contact Orlando Dreamscapes Pools and Spas for a Free Quote