Does your Central Florida home or housing subdivision need a swimming pool built? Are you hesitant because you're not sure how much yard it will take up? Then you may want to think about a Courtyard Pool. 
Courtyard swimming pools are becoming increasingly popular, especially for those homes with smaller yards. 
What is a Courtyard swimming pool? They combine all the benefits of a swimming pool with those of a spa. While not as big as a typical pool, they can accommodate several people, and lend to a very relaxing environment. 
There are many benefits of a Courtyard pool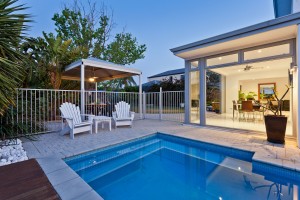 They don't take as much space as a full size swimming pool. Perfect if you have a smaller yard or don't want a pool to encompass the entire property. 
It can easily blend seamlessly into your backyard oasis or become a beautiful focal point. They are great for exercising, just add a few jets and you can swim in place. Comfortable seating allows you to use the jets to relax your muscles after a long day at work. It can be as deep or shallow as you like or shallow at one end and deep on the other. The design possibilities are practically endless. 
You can choose from a large variety of amenities, colors, finishes, and energy efficient pool pumps. They are the perfect way of escaping the stress of everyday life so much easier. 
When it comes to cost, Courtyard swimming pools are typically less expensive than traditional pools, for one because they are smaller. They also cost less to operate and maintain.
At Dreamscapes Pools and Spas we are dedicated to working closely with each customer to create the perfect custom swimming pool. We have an amazing 3D presentation of the overall design, so you will know what your new backyard swimming pool oasis will look like before construction even begins. We also work within your budget and ensure you are satisfied.
Our free consultation will give you a feel for our design process and work ethic. We also encourage you to look at our gallery page for our previous pool construction.
The backyard pool is easier than you think, contact Dreamscapes Pools and Spas and get started today.