Thinking about having a swimming pool built in your Central Florida backyard?  No doubt it is a big decision, but one you will be thankful you made come summer time when the temperature is almost 100 degrees! 
There are many types of swimming pools in today's market, concrete, fiberglass, and pre-engineered, it can be a difficult choice. Salt water or chlorine? What about the type of pool pump? Do you want it heated, maybe solar panels? Then there are the finishes, color, and amenities?  A lot goes into any swimming pool. 
Before You Dive In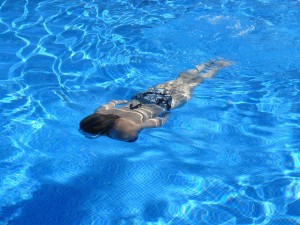 The choices you make now, will be the ones you live with for decades. It is important to look at some swimming pools before you make your decision. 
Not all swimming pools are the same
It may be easier to go with something less expensive, but remember a fiberglass pool doesn't have the same resale value as a cement one. They also don't last as long and typically have higher maintenance costs. 
Check out the different shapes and amenities on the Dreamscapes Pools and Spas gallery.  It can help you decide what you really like. 
The color of a swimming pool had a huge effect on the overall appearance. Some colors can even make the water feel warmer. 
While the water is clear, when sunlight is filtered through it creates a blue tint. So, even if the interior of your pool was white, it would sill look blue. The more water the light passes through, as in the deeper end of pool, the darker blue it will look. Which can be a great safety feature. 
If you are thinking about a darker color for the interior of the pool, it will look flatter and have that dramatic modern feel. Also, the color looks the same at all depths. They also absorb more heat, making your pool warmer. 
There are many decisions that go into a new swimming pool, the team at Dreamscapes Pools and Spas are happy to answer any questions and help you create the backyard oasis of your dreams.