If you've ever wanted your very own backyard pool, now is the time. Whether it's new swimming pool construction or remodeling an existing one, Dreamscapes Pools and Spas is a leader in the industry. We are proud to offer quality construction at an affordable price. We have built our reputation on experience, quality and unparalleled customer service.
Our service area includes the Florida counties of Brevard, Hillsborough, Lake, Orange, Osceola, Polk, Seminole, and Volusia. Also cities of Chuluota, Clermont, Daytona Beach, Edgewater, Kissimmee, Lakeland, Lake Mary, Montverde, New Smyrna Beach, Orlando, Oviedo, Palm Coast, Sanford, St Cloud, and Tampa.
The most popular type of swimming pool for Florida is made of concrete or gunite construction. The pool's interior is made from cement, sand and water. Then the mixture is sprayed over reinforced and sculpted lightweight concrete, to give a luxury, high end custom feel. With a ton of options.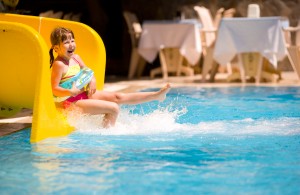 Unlimited design options, tanning ledges, infinity edges, and overflow pools.
They can be custom built for any size backyard and a variety of finishes, pebble or tile, and colors.
A concrete swimming pool can last for generations if properly maintained.
A concrete pool can have a beach entry and go as deep as you want.
Resale value in Florida homes are higher if they have an in-ground concrete pool.
For numerous reasons, staycations are growing in popularity, making the demand for backyard oasis skyrocket.
Escaping from the blistering summer heat in Central Florida is just one of the advantages of owning a swimming pool.
Other advantages include, improved mental health, happier outlook on life, and even better sleep. A recent study from Mindlab International revealed, swimming regularly showed a 35% increase in positivity in just four weeks.  The study went on to show the participants had a 20% increase in wellbeing in just one week, over 40% increase in the quality of sleep (those that swam 2.5 hours a week had a 60% increase in better sleep), over 51% increase in energy level and 15% increase in fitness level.
Juliane Shulz, a lead researcher for the study said, "It's commonly known swimming is one the best forms of exercise to keep fit but this report has taken a look at the further benefits that a couple of swimming sessions a week can have. It's interesting to see that not only did the wellbeing of participants improve, but it happened almost immediately, which can provide some welcome relief to the stresses of everyday life."
Dreamscapes Pools and Spas is proud to be a leading pool service in Central Florida. Our award winning design consultants works closely with each of our clients to ensure their dream oasis.The construction of our pools, spas, and outdoor kitchens are renowned throughout the industry for our exceptional quality, amazing architectural details, and beautiful decor.
Contact Dreamscapes Pools and Spas, we are sure our pool construction and design will exceed your expectations.