Who doesn't want their very own backyard swimming pool oasis? Fun family time together, relaxing in the cool water, and fun BBQ gatherings with friends. But what is the first step?
First, you want to find a reliable swimming pool contractor, it is worth doing some research. A couple of considerations you want to talk to the contractor includes:
Where will the pool go?
It may sound simple enough, but there are a number of factors For instance the ease of access, plumbing, and electricity, the lay of the land and landscaping. There are also longing laws to consider, set backs and property lines. 
Finding the right contractor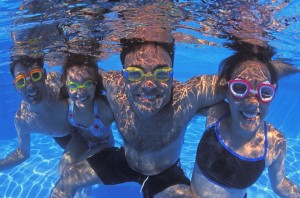 The last thing you want is poor workmanship or someone who isn't going to follow through with their word. You definitely want to make sure they have a valid contractors license.
"Finding a good contractor is important — a home improvement project gone wrong can cost you. A good ad isn't proof a contractor does quality work. Find out for yourself." Federal Trade Commission, Consumer Information. 
It pays to do a little investigation of your own. Make sure they are a local company who will be there when you need them. Check out any reviews and the if their website has a gallery with actual pictures of swimming pools they've built. 
Good communication 
Purchasing a swimming pool should be a fun process. You should feel comfortable with design consultants, it should be a relaxed process, with no pressure and unparalleled customer service. 
You don't want to be pressured into something you don't want or need. Some sales tactics may make it seem like a great deal, only to add to the price later.
Central Florida's Top Swimming Pool Builder 
Dreamscapes Pools and Spas is a certified and licensed pool and spa contractor by the state of Florida. This means there won't be a disappearing act. With over fifty years combined experience and provides the highest level of communication and attention to detail throughout every phase of your project.
Once you contact Dreamscapes Pools and Spas, we work with you to determine what type of pool you want, size, shape, and amenities. Our 3D design technology allows you to see exactly what your new swimming pool will look like before construction even begins. To ensure you get exactly what you want.