Owning a swimming pool and spa in Central Florida is definitely a worthwhile investment with high return on investment in many ways. Not only adding value to your home, but also to your life.
Dreamscapes Pools and Spas make it easy to transform your backyard into a tropical oasis. The process is easier and more affordable than you think. 
Get started with these easy steps 
Pool Design 
There are many swimming pool designs on the market today. Choosing which ones works best for you and your family should be the first step. A couple of the most popular options include: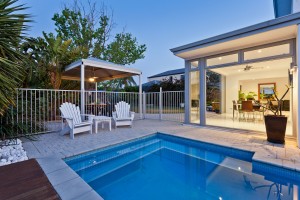 Traditional: This classic, elegant design doesn't have to be complicated to be stunning. A simple design can be very refreshing. 
Infinity Edge: There is nothing like that tropical vacation at a five star resort. Watching water appearing to run right over the pool edge, it's the perfect way to relax. 
Contemporary: Modern aesthetics and bold angles create a swimming pool that is also a work of art. 
Pool Features 
After deciding on the perfect design, it's time to choose which features you want, there are many to choose from. Some may have a higher initial cost, but can reduce the long term maintenance and pool supplies.
Energy efficient pumps can be programed to run the cleaning cycle more when needed and less when it isn't. This automation will notify you when it is time to clean the filter and when the chemicals are running low.
Smart pool automation that gives you the ability to control functions, such as the chemicals, pump, lights, heater, water, and other features with just a touchscreen display. 
A Qualified Team
It is important to choose the right swimming pool company to protect your investment. Our award winning team at Dreamscapes Pools and Spas, will be there every step of the way. We will turn your backyard into an oasis of your dreams.