Swimming pools, they enhance the quality of your life and increase the value of your Central Florida property. But it is also a big investment, which is why it is so important to work with a well established swimming pool company you can trust. 
Central Florida residents and commercial builders have plenty of options when it comes to a custom swimming pool builder. Dreamscapes Pools and Spas stand out from the rest thanks to our award winning team, versatile and unique designs, and the best customer service.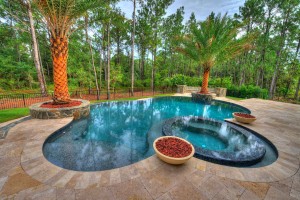 If you are looking to turn your backyard into the oasis of your dreams or looking for a community pool that will turn heads and draw in a crowd, then look no further than Dreamscapes Pools and Spas. 
Our design and construction team has over fifty years combined experience and provides the highest level of communication and attention to detail throughout every phase of your project.
At Dreamscapes Pools and Spas we have worked hard to gain the title of top custom swimming pool builder in Central Florida. We are passionate about the pools we build and are committed to exceeding the expectations of our customers.
We go behind just designing swimming pools, we create a beautiful lifestyle. An outdoor oasis you will enjoy with your family and friends for years to come. 
More than just an amazing design, we use quality materials and craftsmanship, energy efficient equipment, and beautiful finishes, all with efficiency, safety, and durability in mind.
A swimming pool is an investment, at Dreamscapes Pools an Spas you can rest assure knowing you are getting quality products at a fair and honest price. We work to build the pool of your dreams while staying on budget.
Ready to dive in? Contact the most trusted pool building in Central Florida, Dreamscapes Pools and Spas.