Concrete or gunite is the most popular type of inground swimming pools for many reasons. First and foremost, they look amazing and give your home that resort feel. They also add value to your home, last for decades, you can add your personal style and there are tons of amenities to choose from, your imagination can run wild!
The benefits of choosing an inground swimming pool from Dreamscapes Pools and Spas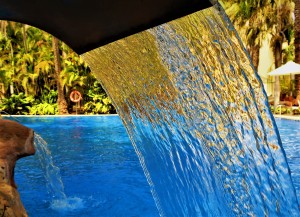 They are very durable, you won't have to worry about tearing the vinyl pool liner or ripping away the fiberglass. They can withstand years of wear and tear with very little maintenance.
The design and style of your swimming pools can be as unique or as simple as you want it to be. It can be any shape you dream up.
Regardless of the shape or size of your yard, you can design a swimming pool that fits perfectly. So, if you thought your yard may have been too small for a pool, think again!
Since a concrete swimming pool last a lifetime, you can expect it to take a little longer to install than other types, but it will be well worth it!
With the seeming endless amount of features to choose from, hot tub, swim up bar, infinity edge, zero entry, caves, your dream backyard oasis can be a reality.
Then there is the pool finishes, colors, coating, textures, lighting, and decking to choose. Creating a unique space all your own, from cool tones from the ocean, glass tiles, flecks of quartz, and even an outdoor kitchen.
Swimming pools add significant value to your home, especially here in Florida.
There are a lot of decisions that come with a new swimming pool. But don't worry, the team at Dreamscapes Pools and Spas are here to help you with our new 3D technology.  You can see what your new pool will look like before construction ever begins.
Contact Dreamscapes Pools and Spas and get started on your dream backyard today!