Dreamscapes Pools and Spas is Central Florida's premier swimming pool builder. We have built our great reputation on experience, quality, and unparalleled customer service.
Just Check Out Our Latest Reviews
Dreamscape Pools provided amazing Customer service and I dealt directly with Michael Shaughnessy. I would and will recommend this company to any of my personal friends and clients. Nathan Rose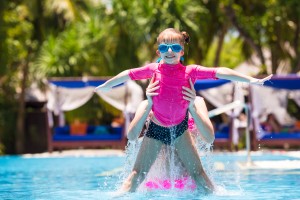 I interviewed 5 pool companies and this was the only one to design what I asked for … size, splash shelf with bubbler and 6 feet sheer decent with a raised area behind the pool. The pool is big, the deck is gorgeous, the workers all did a great job every step of the way. The staff and owners have been helpful with follow up. It's a long process from start to finish, but the end product is everything I had hoped for. Dawn Marie Calo
Dreamscapes helped us clean up some issues from another pool company. They helped to address the issues quickly and didn't take advantage of the situation. I would trust them with any pool needs. Amanda C.
Designing and building a pool with this company was the easiest part of the home building process. They are family owned and so very helpful even still, a year and a half later. They were $15K cheaper than other companies and my pool is beautiful. They will help you design exactly what you want with a virtual computer program. Thank you so much Dreamscapes! Karla Hales
My experience with Dreamscapes was nothing but professional! All of their workers were courteous and clean, they address any concerns I had in a timely manner, and I couldn't be happier with the end result, thank you Mark and Mike for giving me the pool I requested! I would and have recommended this company to anybody who's looking for a pool. Daniel Dodd
What sets Dreamscapes Pools and Spas apart from the rest is our commitment to the highest quality products, construction, skilled craftsmanship and the best warranties, 'Award Winning' design team, over 30 years of combined experience and great prices!
Contact Dreamscapes Pools and Spas for more information on your backyard oasis and a free quote!