Above all else, hiring a reputable swimming pool contractor is vital. One who has longevity in the industry, excellent customer service, and superior craftsmanship. 
There are many factors that go into the cost for an in-ground swimming pool
What type of soil do you have? Is it sandy, rocky, or have a lot of tree roots? How long will it take to dig?
The materials you choose also play a big role. Are you using imported tiles? A concrete finish? The varieties of colors, styles, and even quality are almost endless. It is important to take your time during this process. A 3D design software can definitely help guide you, to ensure you get exactly what you want.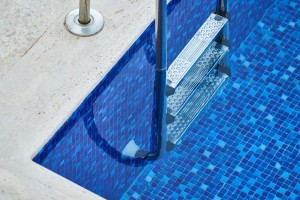 Swimming pool materials that will be used
Gunite or concrete pools tend to look more luxurious and add more value to your home, than other types of materials. Gunite is also very flexible, it can be designed into any shape, you can have resort type amenities such as, a waterfall, beach entry, swim up bar, and even an attached spa.
The scope and size of the project also factors into the cost. Are you having a basic swimming pool or do you plan on having several features or amenities?
Larger projects typically take more time and cost more to complete. The reverse is also true, the smaller the project, typically cost less.
Support and warranties are very important. Which is why choosing a reputable swimming pool company with longevity is very important. The guarantee the company offers are only good as long as they are still in business.
With today's technology, swimming pools are easier to build, more environmentally friendly, and easier to maintain, cutting the cost. 
If you're interested in an estimate for a swimming pool, the first step is to contact a reputable swimming pool company. The team at Dreamscapes Pools and Spas would be happy to talk to you about creating your backyard oasis.
Dreamscapes Pools Construction Team is dedicated to making your dream pool a reality. We provide the highest level of communication and attention to detail throughout every phase of your project.
Now is the time to start planing 
If you've ever wanted your very own backyard pool, now is the time. Whether it's new swimming pool construction, remodeling, renovations, or repairs, Dreamscapes Pools and Spas is a leader in the industry. We are proud to offer quality construction at an affordable price. We have built our reputation on experience, quality and unparalleled customer service.
Contact Dreamscapes Pools and Spas for more information.