Like everything else, your Central Florida in-ground swimming pool gets its share of wear and tear. It is unavoidable, years of kids playing, exposure to the sun's rays, chemicals, pressurized water, and extreme weather, takes a toll. To bring an aging pool back to life can be as easy as having it resurfaced.
How do I Know If My Gunite Swimming Pool Needs to be Resurfaced?
Stains in the Pool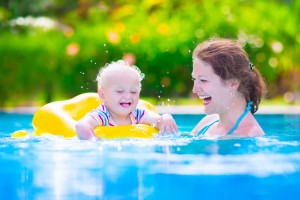 Stains can happen for a variety of reasons, chemicals, debris such as leaves, and algae. They can appear in all colors, sizes and shapes. They can become very unsightly, but can be taken care of by resurfacing the pool.
Texture of the Pool
If the gunite is showing through the surface of the pool or if it feels rougher than normal, that is a big sign the pool is deteriorating. An unbalanced pH level in a pool can also cause deterioration and surface pitting. If your pool needs to be cleaned more often or chemicals are increasingly imbalanced.
Pool Leaks
If the pool surface is damaged or worn out, the chances of a water leaks increase. If you are finding yourself adding water to the pool more than you should, chances are your pool needs resurfaced.
If your pool has seen better days and needs a facelift, contact the professionals at Dreamscapes Pools and Spas. The longer you let the problem linger, the worse it becomes.
Updating Your Existing Pool is Easier Than You Think With Our Renovation Specialists
There are many things you can do to enhance your existing swimming pool including: Refinish Interior, New tile, Pool Deck, Pavers, Salt Generators, Rock Waterfalls, New Pump and Spas.
The design and construction team at Dreamscapes Pools has over fifty years combined experience and provides the highest level of communication and attention to detail throughout every phase of your project.