Designing a swimming pool that is within your budget and fits your lifestyle may feel a little intimidating, but is is well worth the investment.
Dreamscapes Pools and Spas award winning design team and 3D technology to show you exactly how your backyard will be transformed into your dream oasis.
Designing your new swimming pool starts with 4 easy steps.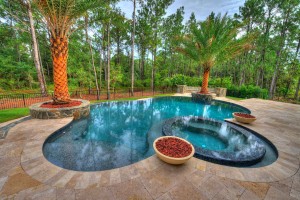 Choosing the Shape of the Pool
The benefits of a concrete or gunite swimming pool is the design flexibility, there are an endless possibilities when it comes to the shape. Depending on the size of your backyard, you can choose from the traditional shapes, kidney, round, rectangle, Freeform, and lazy-L, or put your own spin on it and create your own shape.
Choosing the Technology for Your Pool
choose from a saltwater, chlorinated , or a natural swimming pool, they all have their own benefits. Other features include, energy-efficient pool equipment and solar powered heaters. Dreamscapes Pools and Spas will help you get the most bank for your buck.
Choosing the Swimming Pool Features
This is probably the most exciting part of the design. A waterfall or fountain can add to the luxury pool experience, but the options are just about limitless. Vanishing infinity edge, swim up barstools, fire element, spa, slide, and custom lighting are just a few ideas.
Choosing the Decking for the Pool
The decking material should be beautiful and functional. It should enhance the look of the swimming pool, while resisting excessive heat and doesn't get slippery when wet. Choose from natural stones to stamped concrete.
If you are looking for a simple budget friendly swimming pool or a tranquil resort pool, Dreamscapes Pools and Spas has the experience to make your space remarkable at a price you can afford.
Contact Dreamscapes Pools and Spas for a free quote today.