Has your Central Florida swimming pool seen better days? Is it time for a few updates or renovations? Or just want to enhance your pool with the newest trends? Dreamscapes Pools and Spas makes it easy to transform your in-ground swimming pool to the oasis you and your family will enjoy for years to come. 
Tropical Oasis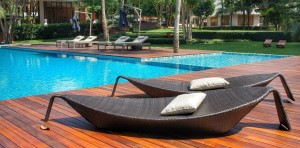 When you think of a tropical oasis, the sound of waterfalls, beautiful greenery, a natural rock wall, fire and water features, all come to mind. You can have that vacation feel every time you step into your backyard. 
Mosaic Tiles
Mosaic tiles are a very hot trend right now. They are very affordable and add flair and a pop of color. The design and color themes are practically endless.
Infinity Edge Swimming Pools
The illusion that the pool never ends will bring your backyard to the next level. It may take some additional land, but that feeling of tranquility is definitely worth it, especially if you have a view. It will also  add value to your home.
Laminar Jets
Give your pool the high end resort feel with Laminar Jets. Whether they are clear or colored, the soothing sounds of arched water create the ultimate dazzling light show for your backyard. An impressive combination, you may think you're on the vacation of a lifetime!
Grottos and Caves
Adventure and mystery for kids and adults without even leaving your home. Just imagine being surrounded by colored lights, the coolness of a cave, and a relaxing intimate area. Entertain with a swim up bar and an extravagant hot tub, you just limited by your imagination.
Fire Feature
Captivating fire features are the hottest trends in swimming pool designs. A glowing fire pit or bowl will give your pool that wow factor that will keep your family and friends talking. A mesmerizing flame is not only relaxing, it creates the ultimate exotic gathering area. The striking visual effects add drama, perfect for those cool evenings. Don't worry, it can be all controlled by a push of a button on a remote.
Dreamscapes Pools and Spas is proud to be a leading pool service in Central Florida. Our award winning design consultants works closely with each of our clients to ensure their dream oasis.The construction of our pools, spas, and outdoor kitchens are renowned throughout the industry for our exceptional quality, amazing architectural details, and beautiful decor.
Contact Dreamscapes Pools and Spas, we would love to put our expertise into your new pool construction. We are sure our design will exceed your expectations.