Swimming pools are pretty common here in Central Florida. We've all seen a backyard pool and just wanted to dive right in. Don't let another year go by without a swimming pool in your own backyard. Contact Dreamscapes Pools and Spas today for more information on your new pool Want your swimming pool stand out from the neighbors?
Here Are The Trendiest Pool Features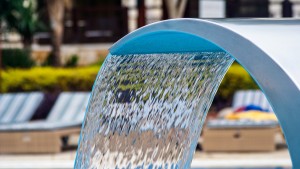 Waterfalls 
Not only is a waterfall a beautiful addition, the soothing relaxing sound after a busy day at work, can't be beat. The repetitive sound of flowing water induces a sense of deep relaxation. Taking you to your 'happy place', soothing your mind, body, and soul. A waterfall feature can also be an extra source of filtration. 
Lighting 
Lighting is the ultimate way to create amazing ambiance. It sets the mood for fun, romance, or entertaining. It can illuminate architectural features. Plus, you can safely enjoy your swimming pool at night. 
Tanning Ledge
A tanning ledge, sometimes called a sun shelf or Baja shelf, easily turned you pool into an oasis.  A tanning ledge is a few inches deep and extends several feet, enough room for a couple of lounge chairs or the kids to splash around. The tanning ledge is the best of both worlds, you can be in the water and still relax in a lounge chair. 
Hot Tub
You can't go wrong with a hot tub, it is the perfect way to relax after work. A hot tub or spa can make all that stress magically disappear. Whether you are recovering from a workout, have arthritis, or just need to relax, the jets ease tension, aching joints and muscles
A swimming pool is the perfect way to bring the harmony and balance to your life
Now is the time to take the next step, contact Dreamscapes Pools and Spas can help. We use the latest 3D design technology to walk you through the process, you can actually see what your new pool will look like, ensuring all the upgrades and amenities are exactly what you want, saving you a ton of money in construction and maintenance cost. Adding features and enhancements during the construction phase cost a lot less than you may think!