Just imagine yourself relaxing in your own backyard swimming pool. Laying in a lounge chair, taking up the tranquil view. Children playing, jumping, and splashing. You jump in the pool to cool off, then into the hot tub to unwind and destress.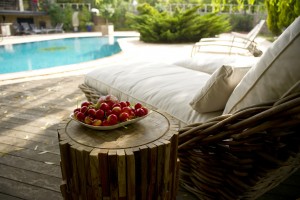 What A Great Way To Start 2018!
Sounds great, doesn't it? But if you're thinking how much will it end up costing, you're not alone. The fact is, an in ground swimming pool makes financial sense. Not only does it increase the value of your home, it sure to encourage everyone in the family to exercise, and will become your favorite place to unwind from the stress of the day and entertain friends.
The most popular in-ground swimming pool is gunite. A combination of sand and cement. Poured into a design and shape of your choice.
There are a variety of filtration methods according to House Logic these including "systems that use bromine, salt, ozone, ionizers, or other chemical compounds that can be less irritating to skin. Chlorine remains the most popular because the upfront costs are reasonable, and you don't have to be as rigid about checking the levels on a set schedule. But as far as your wallet is concerned, they all even out in the end."
The professionals at Dreamscapes Pools and Spas have the experience and expertise to make your dream pool a reality. Our design team will listen to you and create a design, using the latest 3D design software that meets your budget. If you are looking for a simple budget friendly swimming pool or an exotic backyard resort pool, we have the talent and experience to make your space remarkable at a price you can afford.
What sets Dreamscapes Pools and Spas apart is our commitment to the highest quality products, construction, skilled craftsmanship and the best warranties, 'Award Winning' design team, over 30 years of combined experience and great prices!
Contact Dreamscapes Pools and Spas for more information on your backyard oasis and a free quote!