You've decided to add a backyard swimming pool to your Central Florida home, but how does the process go since COVID-19? Some homeowners have concerns about building a custom pool since the pandemic. 
At Dreamscapes Pools and Spas we continue to monitor the current situation. You can rest assure we follow all the safety recommendations from the Center Fro Disease Control, as well as the regulations laid out by the local and state authorities.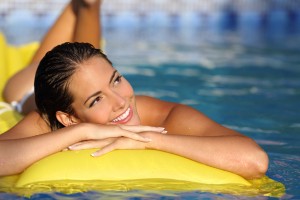 The experienced team at Dreamscapes Pools and Spas are always available for a virtual consultation. Starting the planning process now will ensure your swimming pool construction will be finished in time for summer. During the consultation, we can go over any questions you may have, design options and even financial considerations. 
Since all the construction takes place outside, we follow all the social distancing guidelines, to ensure the safety of you and your family. 
The most popular type of swimming pool for Florida is a concrete or gunite construction. The pool's interior is made from cement, sand and water. Then the mixture is sprayed over reinforced and sculpted lightweight concrete, to give a luxury high end custom feel.
Not As Expensive As You Think!
With today's technology building an in ground swimming pool is not as expensive as it once was. It is also an investment that will increase the value of your home and your quality of life. The cost of building a pool is affected by the size, upgrades, finishes, and water features. A free form pool generally doesn't cost any more than a geometric design, rectangle or square, it may even cost a little less.
The National Association of Realtors published a study showing an in-ground gunite swimming pool increases the value of a home in the Southeastern United States. Raising the value as much as 13 percent. Many home buyers in Florida feel a pool is a necessity!
Dreamscapes Pools and Spas is Central Florida's premier pool builder, from Tampa to Brevard County, Palm Coast, New Smyrna, and Orlando. We have built our reputation on experience, quality, and unparalleled customer service.
Get Started Today
Let one of Dreamscapes Pools and Spas award winning design consultants work directly with you in a relaxed, no pressure environment to create your perfect backyard getaway. We'll work together to design an outdoor living space that reflects your own personal style, taste, and budget.
Contact Dreamscapes Pools and Spas for a quote, we are sure our pool construction and design will exceed your expectations.