Dreamscapes Pools and Spas of Central Florida recently had the pleasure of working with John Francisco and his family. We genuinely care about doing whatever it takes to make our clients happy. We care about the quality of our product and the people who use them. Here is what John Francisco said about his experience with Dreamscapes Pools and Spas.
Positive: Punctuality, Quality, Responsiveness, Value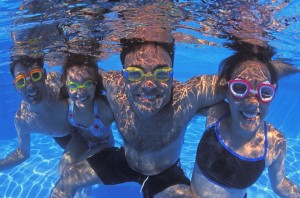 This past August we decided to take the plunge and build our backyard oasis. With this being such a huge commitment, both mentally and financially, we interviewed no fewer than five builders in Central Florida. We decided to go with Dreamscapes Pools and Spas, while they were not the cheapest, they did instill a kind of confidence in that we would be in good hands and they would deliver exactly what we were looking for. 
Tia came to the house and listened to everything we thought we wanted. She designed a beautiful free-form pool, waterfalls, tanning ledge, picture window screen enclosure, etc. Not too long after, we decided a rectangular pool would work better for us and she redesigned the pool to perfection without missing a beat. All she would say was "we want you and your family to be happy". That had me sold. 
During the entire build process, we were keep abreast of what was going on and even made a few changes with waterline tile with no problems at all. Any issues were promptly taken care of. The quality and attention to detail that their work shows, reinforces my decision to go with Dreamscapes Pools and Spas. Every step of the the process was professional from excavating the yard to having "pool school".  They are only a phone call away if any questions or concerns arise is also a plus.
If you are interested in getting a pool, always do your homework, but know the cheapest isn't always the best. With an investment of this size you want a quality builder. Call Dreamscapes and ask for Tia, you will be in good hands and will get high quality work for a fair price. If I had to choose again, it still would be Dreamscapes Pools and Spas.