Why have a swimming pool built in your Central Florida backyard?  It could be the thought of relaxing poolside in the perfect lounge chair, the soothing sound of the fountain, diving in to cool off on a hot summer day, or the kids having the time of their life playing in the water. 
A swimming pool is also makes keeping a daily exercise routine so much easier and takes entertaining to the next level! 
What does your perfect backyard oasis look like? Dreamscapes Pools and Spas can make it happen!
Peace and relaxation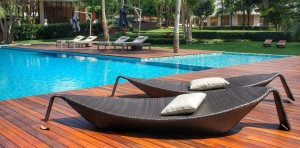 Life can be hectic and busy! Everyone needs a place to relax and get away from it all. A swimming pool in your backyard makes it easy to take that time to relax in your very own piece of paradise whenever you want. 
Just by adding a few features you can turn an average pool into 5 star personal resort! Maximize your relaxation time with a soothing fountain or waterfall, laminar jets, or even a sun shelf and zero entry for that resort atmosphere.
Do it for your health
Getting the fitness is easy for the entire family when you have a pool in your backyard. 
"Swimming fires up more of your body's major muscle groups than other forms of cardio exercise," according to Time.  It may seem like you're have fun, "But don't be fooled; your body is working hard when you're in the pool. Water is denser than air, so moving through H2O puts more external pressure on your limbs than out-of-water training, studies have shown. Even better, that pressure is uniformly distributed. It doesn't collect in your knees, hips or the other places that bear most of the burden when you exercise with gravity sitting on your shoulders." 
Do more than just dream about your new backyard oasis this summer, contact Dreamscapes Pools and Spas and make it a reality. 
What sets Dreamscapes Pools and Spas apart from the rest is our commitment to the highest quality products, construction, skilled craftsmanship and the best warranties, 'Award Winning' design team, over 30 years of combined experience and great prices!