You've always wanted a backyard swimming pool, somewhere you can relax and have fun with the family. Then you think about the time it takes to keep it clean, dealing with chemicals, high water bills, and frustration. Bur with today's technology, these things have changed drastically. 
Maintenance Costs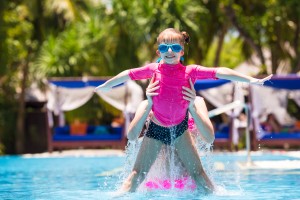 While not completely maintenance free, chlorine generators used for salt water pools have made it pretty easy to keep your pool clean.  As water goes through the salt cell system, chlorine is released from the salt by means of electrolysis. This eliminates the need having to deal with any chemicals. 
The Costs Of An In-Ground Swimming Pools 
Today's technology has made it possible to keep the installation of an in-ground swimming pool very affordable. They are also an investment, increasing the value of your home and your life!
Dreamscapes Pools and Spas professional design team will listen to you and create a design, using the latest 3D design software that meets your budget. If you are looking for a simple budget friendly swimming pool or an exotic backyard resort pool, we have the talent and experience to make your space remarkable at a price you can afford.
This new computer application allows you to see what your new pool will look like, ensuring all the upgrades and amenities are exactly what you want, saving you a ton of money in construction and maintenance cost. Adding features and enhancements during the construction phase cost a lot less than you may think!
The Costs Of Utilities
Many people think the utility cost will go up if they get a swimming pool. The key is efficiently designed equipment. This way there won't be a spike in the cost of utilities.
Can't Wait To Take A Dip?
Want the perfect pool for your home or community, then contact Dreamscapes Pools and Spas. You and your family will be swimming all summer long.