How many products have really changed your life? Definitely not many, but a swimming pool will without a doubt change your life for the better. The addition of a gunite pool is an investment with benefits that keep giving. 
Helping homeowners transform their life and property
In-ground swimming pools are beautiful 
We are naturally drawn to water, it gives us a sense of tranquility and well-being. Swimming pool owners say become one of the most prominent feature in their home.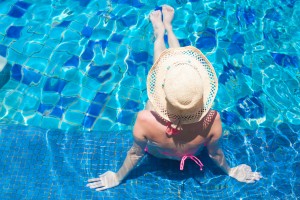 Gunite swimming pools are definitely the most attractive and versatile. They are fully customizable to your specific taste and creative design. You can choose from the shape of the pool, color, size, and surface materials. It can have a traditional look or that of a modern work of art. 
Then there are the amenities, infinity edge, beach entry, bubbler fountains, grotto waterfalls, rock work, or a plethora of other custom options.
Such as a tanning edge, that allows you to stay cool near the water while relaxing in a lounge chair. While LED lighting illuminates dazzle the night. 
In-ground swimming pools expand your living space 
The backyard often goes unused most of the time, but that all changes with a backyard swimming pool. By creating a new dimension to your home, that is functional and beautiful. 
Today's swimming pool decks include cabanas, grills, outdoor kitchens, fire pits, great outdoor furnishings and so much more. These "outdoor rooms", as they are called, are filled with beautiful landscape. Often becoming the hub of the house. 
Let's not forget about the spa! Everyone can enjoy some distressing after a long day at work or school. It's also great to unwind after a good workout. 
Fostering a healthy lifestyle 
Your backyard swimming pool is the perfect place to exercise. Aquatic exercises and swimming laps are among the best physical activities. Even relaxing in the spa contributes to your overall well-being.
Many people wonder if a new backyard swimming pool is worth the price, the answer is definitely YES! With today's technology and financing, they are more affordable than ever.
If you are thinking about investing in a new swimming pool or updating your existing one, contact contact Orlando Dreamscapes Pools and Spas for a Free Quote.