A backyard swimming pool here in Florida is pretty much a necessity. Your very own oasis is the perfect place to exercise, relax, and enjoy your life.
To ensure you get exactly what you want, you want to understand the process, know what to expect and make informed decisions. 
What is your budget?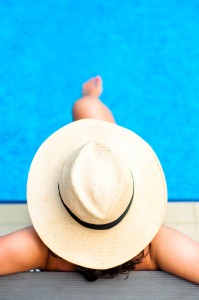 While it may not be fun, establishing a budget and main priorities is essential.  Not only the initial cost, but also include ongoing maintenance. Some features may cost more upfront, but will reduce expenses over time. Quality shouldn't be compromised, a swimming pool that is built well will look great for decades and will have fewer issues or repairs. 
"Not all pools are built alike. There's a pool design, type, shape and style for every budget, personal taste, and lot size. Another consideration: local availability of materials, who will be building or installing the pool, and regional codes and regulations," according to The Spruce.
The size of the pool 
This is typically determined by the layout of your yard, the layout, the deck, outdoor kitchen, and furniture. 
How deep do you want the pool? The traditional pool has a shallow end of 3 to 4 feet and transition to the deep end, which is 5 to 6 feet. How you want to use the swimming pool should determine the depth. 
What shape and style do you prefer?
This is a big decision, it really helps if your swimming pool company has 3D computer technology. This way you can see what everything will look like and ensure all the elements integrate well before construction even begins. 
What pool company should you work with?
You want to work with a reputable pool company. Dreamscapes Pools and Spas is proud to be a leading pool service in Central Florida. Our award winning design consultants work closely with each of our clients to ensure their dream oasis. We listen to you and your family's needs to ensure a perfectly functional and beautiful backyard swimming pool.
Get started on your backyard oasis by contact Dreamscapes Pools and Spas.