Is building a new backyard swimming pool worth the expense? Sure, they look amazing, the kids would love to play and fun in it, you could finally get that exercise in, spend family time together, and relax in the perfect staycation. But, is the construction process and cost worth it? Let's find out.
Increase the Value of Your Home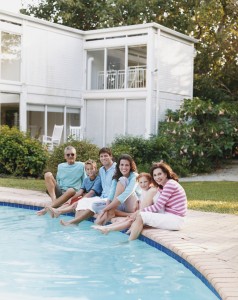 We all know that a backyard pool will increase a home's value, but is it enough?  Yes, because they don't cost as much as they used to. Today's modern, environmentally friendly materials, latest equipment and technology, make them easier to build and maintain. Reducing both the initial cost and lifetime maintenance expenses, make them worth it! 
Everyone Loves a Backyard Swimming Pool
A backyard swimming pool means the kids will want to spend more time playing in the pool and less time on electronics. Spending quality time with our children seems to be getting more difficult. A swimming pool makes it easy to make treasured memories. 
Entertaining Friends 
There is nothing better than a pool party.  Cooking out, good friends, music, and fun in the pool, there's nothing better! It is a great way to stay in touch with friends and even make new ones. 
Valuable Family Time Together 
We are lucky enough to live in Central Florida, where it is swimming pool season all year round. Spending just a few hours every weekend together around the pool, are what life long memories are made from. 
Now is the time to start planing 
If you've ever wanted your very own backyard pool, now is the time. Whether it's new swimming pool construction, remodeling, renovations, or repairs, Dreamscapes Pools and Spas is a leader in the industry. We are proud to offer quality construction at an affordable price. We have built our reputation on experience, quality and unparalleled customer service.
Contact Dreamscapes Pools and Spas for more information.