While a traditional pool is great, a customized pool is even better! Tailored to suit your needs, the layout will fit your property, look amazing, and the end results will sure to fulfill your dream oasis.
A Few Tips for Creating a Stunning Custom inground pool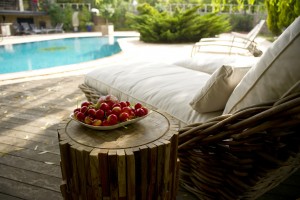 Do a little research, look at different options and features. The award winning design team at Dreamscapes Pools and Spas are happy to partner with you to make your dream backyard a reality.
Configure a beneficial layout.How much of your backyard are you going to devote to the project?
If you will be using the spa year round, you may want to have it close to the house, maybe have it covered so you can use it in all types of weather.
A few questions to ask yourself
Will you want the pool heated?
Will you want some fun accessories, swim up bar, waterfall, slide, fountain?
What about entertainment space, outdoor kitchen, covered cabana, fire pit, LED lighting, sound system?
What shape do you want the pool? Traditional rectangular, oval, or something that really makes a statement.
Pool tile and accents, you want everything to compliment each other, be welcoming and relaxing. Mixing and matching is great, just make sure you choose something you are going to enjoy for a long time.
Sound can really add to the overall ambiance and tranquility. Do you want to have any background noise?  Water features such a waterfall or fountain, can add to the relaxation and peace of mind.
Seating is important, a few lounge chairs, an area in the pool for seating, maybe even a pergola or outdoor living area. Don't forget all the family and friends that will be over to visit!
Don't forget about the landscape, it can add a cool breeze on a warm day.
There is a lot that goes into the planning a backyard oasis, the team at Dreamscapes Pools Construction is dedicated to making your dream pool a reality. Our skilled craftsmen use only high quality, long lasting, and efficient materials to construct your swimming pool.
Our design and construction team has over fifty years combined experience and provides the highest level of communication and attention to detail throughout every phase of your project.
Contact Dreamscapes Pools and Spas today for a free quote.