Swimming pools have numerous benefits, a beautiful backyard oasis adds value to your home, an easy way to exercise, great for social gatherings, and a memorable way to spend quality family time together.
Here are the Top 10 Benefits of a Backyard Swimming Pool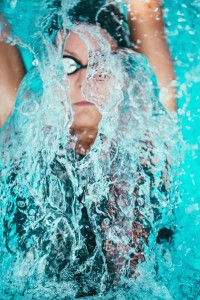 10. A Great form of exercise without even realizing. Whether it is swimming laps or just playing around in the pool, it is all great exercise in the comfort of your own home. Kids will be too busy having fun to even realize they are exercising. The CDC explains the health benefits, "Swimming is the fourth most popular sports activity in the United States and a good way to get regular aerobic physical activity. Just two and a half hours per week of aerobic physical activity, such as swimming, can decrease the risk of chronic illnesses. This can also lead to improved health for people with diabetes and heart disease. Swimmers have about half the risk of death compared with inactive people. People report enjoying water-based exercise more than exercising on land. They can also exercise longer in water than on land without increased effort or joint or muscle pain."
9. How clean is the public pool? How about the one at the gym? Recreational water illness is a growing problem. The CDC warns of a wide variety of infections can caused by germs and chemicals found in a public pool, diarrheal illness, rashes, respiratory infections, ear infections, and irritation of the lungs and eyes. Without proper maintenance a public pool can easily turn into a cesspool. With your own backyard swimming pool you know just how clean it is kept.
8. It's convenient. No packing up the car or driving to the public pool, because you have your very own resort style pool!
7. Get the family outdoors. Today's age is full of electronics, video games, and TV.  A backyard swimming pool is an easy and fun way to get the whole family outdoors and spending time together.
6. Social gatherings. Whether it is family gatherings or your child's friends coming over for a swim, the backyard pool is the perfect way to make friends and entertain.
Check back with us for the rest of the countdown, but if you can't wait till then to get started on your new pool, contact Dreamscapes Pools and Spas today!