Think a new swimming pool cost too much? Think again, your own backyard paradise is worth more than you would expect. 
Increase the Value of Your Home
Backyard swimming pools are always in a high demand, especially here in Central Florida. "A pool could potentially boost a home's sales price by nearly six figures in some locales, according to a new analysis by the real estate brokerage Redfin," according to Realtor Magazine.
Gunite or concrete pools tend to look more luxurious and add more value to your home, than other types of materials. Gunite is also very flexible, it can be designed into any shape, you can have resort type amenities such as, a waterfall, beach entry, swim up bar, and even an attached spa.
With today's technology, swimming pools are easier to build, more environmentally friendly, and easier to maintain, cutting the cost. 
National Center for Real Estate Research conducted a study that showed that homes with in-ground gunite pools not only sell faster than those without, they also increase a home's value by as much as 15%.
Quality Time with Family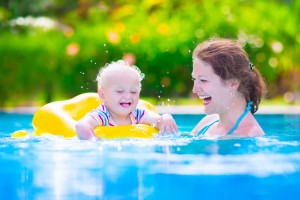 In our tropical environment you can spend quality time in the backyard swimming pool with family all year round.  A pool creates an environment that brings family and friends together. An opportunity to bond with each other, play games, relax and just have fun together, things that can be hard to come by in our world of technology. It also makes an amazing venue for holiday gatherings, barbecues, and parties.
Health Benefits
According to Shape Magazine, swimming is a total body workout, "Swimming tackles everything from sculpting your back to toning your arms—all without having to pick up a weight. Rather than needing a plan to work specific muscles, all four strokes work to strengthen your entire body." It is also a great way to lose a couple of pounds, "Those rumors about swimmers and calorie intake aren't false: An hour of moderate swimming can burn around 500 calories. This revs up your metabolism, continuing the burn well after you've stepped off the deck." The article sums up with maximizing your cardio, "Swimming is the ultimate aerobic activity. There is more breath control compared to running, thus an increased demand for oxygen, causing your muscles to work harder."
Central Florida's Top Swimming Pool Contractor
Dreamscapes Pools and Spas is proud to be a leading pool service in Central Florida. Our award winning design consultants work closely with each of our clients to ensure their dream oasis. We listen to you and your family's needs to ensure a perfectly functional and beautiful backyard swimming pool. The construction of our pools, spas, and outdoor kitchens are renowned throughout the industry for our exceptional quality, amazing architectural details, and beautiful decor.