When it comes to construction of a new swimming pool here in Central Florida, many people wonder if they worth the price. The answer is YES! Today's technology has made owning a pool very affordable.
On average, a beautifully designed swimming pool can increase the value of your home by almost 10%. Which in most cases you can recoup the construction costs.
When it comes to selling your home, a pool makes it much more attractive. If you were choosing between a house with a swimming pool and one without, the choice is easy, the one with a piece of paradise right in the backyard. 
Today's technology has also made owning a swimming pool much more affordable than they used to be. So, once thought for only the elite, are now affordable for everyone.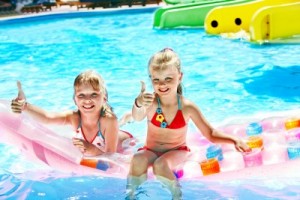 Talking about value, a swimming pool adds so much value to your life. The physical and mental benefits are definitely worth  the price. Having your friends and family gathered together, playing and hanging out, is priceless.
Swimming also has many mental health benefits. Swimming World Magazine, "The direct effect that swimming has on our brain leads to several mental health benefits, a few of which are explained below."
Endorphins and Serotonin 
Any form of exercise, including swimming, causes the release of endorphins. These endorphins interact with receptors in our brain that reduce our perception of pain. Along with serotonin, endorphins bring about a sense of happiness, positivity and well-being. Research has also proven that regularly getting those feel-good hormones flowing (a.k.a. exercising) has deep mental health benefits and helps your body respond better to stress in general.
Swimming also, takes your mind off of things, regulates breathing, boosts blood flow, mental well-bing and stress relief.
Blue Mind Science 
"Blue Mind" is a term associated with water-related calm and peace. Dr. Wallace J. Nichols, author of the best-selling book Blue Mind, says, "Research has shown that being near, in, on or under water can provide a long list of benefits for our mind and body, including lowering stress and anxiety, increasing an overall sense of well-being and happiness, a lower heart and breathing rate, and safe, better workouts. Aquatic therapists are increasingly looking to the water to help treat and manage PTSD, addiction, anxiety disorders, autism and more."
If you are thinking about investing in a new swimming pool or updating your existing one, contact contact Orlando Dreamscapes Pools and Spas for a Free Quote.