Having a backyard swimming pool here in Central Florida is a must have, but what kind of pool will add value the most value to your home and your life? 
Choosing the right construction material for your new swimming pool can be confusing. Which one will give you the most bang for your buck, is durable, and looks amazing?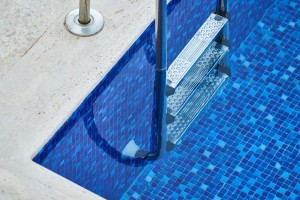 Gunite or concrete pools tend to look more luxurious and add more value to your home, than other types of materials. Gunite is also very flexible, it can be designed into any shape, you can have resort type amenities such as, a waterfall, beach entry, swim up bar, and even an attached spa.
Some of today's pools are made from fiberglass, a man made, smooth, and hard material.
Gunite is made from natural materials, mostly concrete and sand, sometimes small aggregate and can last for decades.
Unlike above ground pools, vinyl, or fiberglass, gunite swimming pools are incredibly durable and have a much longer lifespan. Gunite is so durable, they use it to make tunnels and bridges. The pools are framed in steel and keep their shape indefinitely. This also means they are made on site, which means they are customized to fit perfectly in your backyard, have the amenities you want, all while being easy on the wallet.
National Center for Real Estate Research conducted a study that showed that homes with in-ground gunite pools not only sell faster than those without, they also increase a home's value by as much as 15%.
Dreamscapes Pools and Spas is proud to be a leading pool service in Central Florida. Our award winning design consultants work closely with each of our clients to ensure their dream oasis. We listen to you and your family's needs to ensure a perfectly functional and beautiful backyard swimming pool. The construction of our pools, spas, and outdoor kitchens are renowned throughout the industry for our exceptional quality, amazing architectural details, and beautiful decor.