Having an inground swimming pool in Central Florida is every homeowner's dream. A beautiful swimming pool in your backyard is a great way to add a resort like comfort and experience to your home and a great way to unwind after work and school.
If you are in Florida and looking for a professional and trustworthy swimming pool builder, it's time to contact Dreamscapes Pools and Spas. We take pride in being nationally recognized and award winning, with quality personnel to make all your swimming pool dreams come true.
Quality Craftsmanship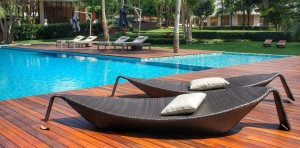 As one of the most experienced swimming pool building teams in the industry, Dreamscapes Pools and Spas has top talent. Our team of experienced schedulers, project managers, and personnel, ensures the process runs smoothly and efficiently.
We take pride in creating pools that are aesthetically pleasing and complement your home, while meeting all your needs.
Custom Design Pools
Our award winning design team stay on top of the latest architectural and design trends to ensure your swimming pool is not only breathtakingly beautiful, but also lifestyle appropriate. Be sure to check out Dreamscapes Pools and Spas portfolio of our completed projects.
Pool Renovation
If your swimming pool needs a little updating, modern energy efficient equipment installed, or a fresh new design, Dreamscapes Pools and Spas can help.
Top Notch Customer Service
We have a great customer support team who is available to attend to all your needs. Whether you are starting from scratch or have some ideas in mind of what you want your swimming pool to look like, we want to help you get the pool of your dreams.
Seamless Integration
With decades of experience, Dreamscapes Pools and Spas understands a pool should integrate seamlessly with your home. Becoming an extension of your home and property. Our quality designs and materials will transform your backyard into an oasis.