Go beyond just dreaming about your backyard oasis, make it a reality! With temperatures reaching triple digits now is the time. Beat the heat by diving into your new backyard swimming pool. It's also a great way to get your exercise, spend time with family, and entertain guests. 
First, you need to find the right pool builder
Without a qualified and reputable builder, your dream swimming pool can quickly turn into a nightmare! Do a little research and determine what you want, as well as, fit your budget and lifestyle. 
With today's technology building a swimming pool is not as expensive as it once was.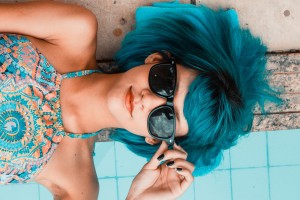 A swimming pool will increase the value of your home and your quality of life. There are many types of swimming pool materials, concrete or gunite, fiberglass, are the most popular.
National Center for Real Estate Research conducted a study that showed that homes with in-ground gunite pools not only sell faster than those without, they also increase a home's value by as much as 15%.
The cost of building a pool is affected by the size, upgrades, finishes, pool equipment, saltwater  generator or chlorinated, and water features. A free form gunite pool generally doesn't cost any more than a geometric design, rectangle or square, it may even cost a little less.
Gunite is made from natural materials, mostly concrete and sand, sometimes small aggregate and last for decades.
The pools are framed in steel and keep their shape indefinitely. This also means they are made on site, which means they are customized to fit perfectly in your backyard, have the amenities you want, all while being easy on the wallet.
Concrete pools tend to look more luxurious and add more value to your home, than other types of materials. Gunite is also very flexible, it can be designed into any shape, you can have resort type amenities such as, a waterfall, beach entry, swim up bar, and even an attached spa. 
Technology has led to energy efficient pumps with programmable timers and variable speeds. This is about a 70% savings in operational costs.
Whether you are building your new swimming pool during the construction of your new home or in your existing backyard, Dreamscapes Pools and Spas professional design team will listen to you and create a design, using the latest 3D design software that meets your budget. If you are looking for a simple budget friendly swimming pool or an exotic backyard resort pool, we have the talent and experience to make your space remarkable at a price you can afford. We also have financing available.