The addition of a swimming pool in your Central Florida backyard is very exciting! But it is easy to make a few mistakes along the way. Leaving you somewhat disappointed with the final product. So, if you are still contemplating that dream oasis, look out for these common mistakes.
Swimming Pool Design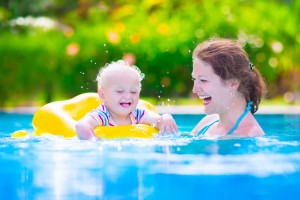 What will you use your swimming pool for, exercising by doing laps, kids jumping into the water, entertaining, or adults relaxing in the hot tub. How much of the backyard will you be dedicating to the pool. With the latest 3D software technology from Dreamscapes Pools and Spas, makes it easy to see exactly what you want before construction ever begins. This way you are sure to get the paradise you've always dreamed of. 
Size of the Swimming Pool
You may think a larger pool is the way to go, but this isn't always the best way. Even is you have a big family, a smaller swimming pool may be best. Younger children can have a shallow end to splash around and play, while the older kids have fun in the deep end. Smaller pools definitely have their benefits, they tend to cost less, require less maintenance, and take less space in the backyard.
Not Planning for Safety 
Safety should always be a high priority. How will you access the swimming pool and how will you protect those who shouldn't access the pool. Fences, decks, and paths leading to the pool should be properly secured. 
What sets Dreamscapes Pools and Spas apart is our commitment to the highest quality products, construction, skilled craftsmanship and the best warranties, 'Award Winning' design team, over 30 years of combined experience and great prices!
We ensure your backyard oasis will be your favorite place to unwind from the stress of the day and entertain friends.
Contact Dreamscapes Pools and Spas for more information on your backyard oasis and a free quote!