Do you want an amazing swimming pool built in your back yard? One without all those chemicals or maintenance? There is a growing trend for getting back to nature, what a better way to do that than with a beautiful natural swimming pool, it is functional, looks great, and doesn't need all the chemicals.
With fun features such as diving boulders, outcrops for water spillage, clusters of rock, caves, natural plants, and the water gives the appearance of a natural pond in color. Because of a specialized filtration system, a natural pool removes any impurities and keeps the water healthy and clean.
What is a natural swimming pool?
A natural swimming pool is inspired from nature, using a self contained eco-system, a circulating water feature, aquatic vegetation and stratified soils clean and filter the water. Eco-friendly and completely chemical free, safe for everyone to use.
How does it work?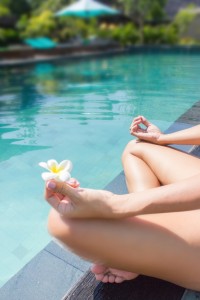 While natural swimming pools start off like other gunite or concrete pool, the filtration system is unique. Because natural pools don't need added chemicals or traditional equipment, the annual maintenance cost is less.
Natural pools use a pump to take the pool water and floods a natural filter, layers of rock and soil. Less chemicals, less maintenance, less expense, and a great investment, what is there not to like about a natural pool.
Natural pools can be custom designed to fit just about any size back yard, with amazing features and plants to create a beautiful relaxing oasis.
A natural pool becomes a landscape centerpiece for your backyard, increasing the value of your home, while increasing quality, relaxation and fun for you and your family.
As one of Central Florida's premier pool builders, Dreamscapes Pools and Spas has built our reputation on experience, quality, and unparalleled customer service. We work together with our clients to design an outdoor living space that reflects their own personal style, taste, and budget.
Our service area includes the Florida counties of Brevard, Hillsborough, Lake, Orange, Osceola, Polk, Seminole, and Volusia. Also cities of Chuluota, Clermont, Daytona Beach, Edgewater, Kissimmee, Lakeland, Lake Mary, Montverde, New Smyrna Beach, Orlando, Oviedo, Palm Coast, Sanford, St Cloud, and Tampa.