Having a swimming pool built in the backyard is everybody's dream. It's also a home improvement investment that pays for itself in so many ways. From spending quality time with family and friends, increasing the value of your home, makes getting exercise easier, and enhances mental well being.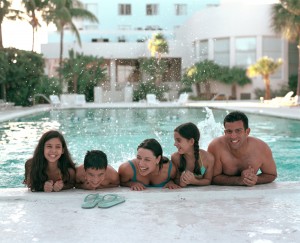 "Seventy-five percent of pool owners say their swimming pool turns the backyard into an everyday vacation spot, according APSP research. Four out of five owners say it's a great way to entertain guests, and half say it's the ideal place to connect with family and guests," according to The Association of Pool & Spa Professionals.
"Pools, spas and hot tubs are the kind of investments that will provide enjoyment for you and your family year-round. They have the hallmarks of all great home improvements – they add value, enhance livability and beauty, and create a perfect gathering spot for family and friends."
Backyard Oasis
Create the pool of your dreams, from a luxurious infinity pool to a smaller lap pool, you can decide on the shape, width, depth and even length it's easy with concrete or gunite. It is the most versatile material for swimming pools, you can get creative with the design, customized for your unique backyard.
If you are looking for a simple budget friendly swimming pool or an exotic backyard resort type pool, the experienced staff at Dreamscapes Pools and Spas can make your space remarkable at a price you can afford.
Just because your backyard is on the small size, doesn't mean you have to miss out on all the fun! The professional design team at Dreamscapes Pools and Spas work with you to carefully design the backyard vision of your dreams. With amazing features and design elements such as, infinity edges, beach entries, custom rock formations, the options are endless.
If you've always dreamed about your very own backyard swimming pool, now is the time! Concrete or gunite pools are the most popular and offer the most value. They are also the most durable and last for decades.
Contact Dreamscapes Pools and Spas for more information and a free quote.