If you are considering having a swimming pool built in your Central Florida backyard, the big questions is Saltwater or Chlorine? Traditional Chlorine swimming pools are great, but Saltwater pools have some several significant advantages. 
Maintaining a chlorine pool requires chemicals to be added manually, on a routine basis. While a saltwater pool uses a salt cell system to keep it clean. Electrolysis releases chlorine from the salt as water passes through the salt cell. 
Benefits of a Saltwater Swimming Pool Include: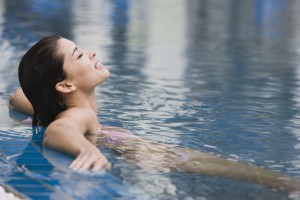 Less Maintenance 
With a saltwater pool you won't have to go to the store and purchase chemicals for the pool. You also won't have to go through the process of adding them to the pool. Instead the water will be sanitized with chlorine produced by the salt. The contaminants will be neutralized, germs killed and algae will be very slow to grow. 
Of course you will need to add salt to the purification system from time to time, but it is significantly much less maintenance than the chlorine based system. 
Health Benefits 
Chlorine can have several adverse effects on our health, such as itchy dry skin, red irritated eyes, and change the color of your hair.   
Salt water swimming pools are better on the muscles and joints because they contain the mineral bromide. Which helps relieve soreness, aches, and everyday pain. The Salt also helps promote the natural relaxation process in our body.
Studies show the salt can help skin disorders such as eczema, psoriasis, and acne. It naturally helps skin retain moisture, feel softer and smoother. 
Cost Less
Saltwater swimming pools cost much less to operate and maintain than traditional chlorine pools. The cost for the salt is typically around one hundred dollars a year, compared to almost a thousand dollars a year for chemicals for a chlorine pool.
If you are looking for a simple budget friendly swimming pool or a tranquil resort pool, Dreamscapes Pools and Spas has the experience to make your space remarkable at a price you can afford.
Contact Dreamscapes Pools and Spas for a free quote today.