Thinking about having a swimming pool built? Now is a great time to start construction of a new pool. It will be done in time for the holidays and lets face it, swimming pool season is all year round here in Central Florida!
If you're a gadget person, you're going to love the newest swimming pool technology. Not only do they make maintenance easy, they add a ton of fun.
A smart pool monitoring system makes it easy to know when to add chemicals to your pool. Properly maintaining the water in our pool can be a chore, but not any more. By connecting it to your WiFi you can be anywhere and monitor the water in your pool and see how the water looks.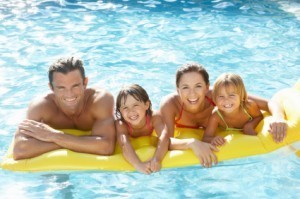 No need to spend time cleaning the pool with a robotic pool cleaner. Nothing gets more high tech than this, just program the robot and let it go.  It does all the hard work, including the sides of the pool.
Say goodbye to that old net and hello to the remote control pool skimmer. Just relax on the side of the pool and have fun driving the skimmer around the water. It picks up bugs, dirt, leaves, and even dog hair.
Love listening to music in the pool, a waterproof bluetooth speaker with lights makes it easy and fun. Connect it to your smart phone or other device and enjoy. It is easy to change songs and adjust the volume. It also has a lighting system to illuminate your pool at night.
Start recording your underwater adventures with a GoPro Diving Mask. Just wear the mask when you swim and start recording, kids and adults will have a blast with it.
The latest 3D design technology makes building a new swimming pool easy and fun!  You can actually see what your new pool will look like, ensuring all the upgrades and amenities are exactly what you want, saving you a ton of money in construction and maintenance cost. Adding features and enhancements during the construction phase cost a lot less than you may think!
Contact Dreamscapes Pools and Spas for more information about your new swimming pool.