Looking for an amazing Holiday present for your family?  Something that everyone can enjoy all year long? The spa treatment for Mom, relaxation for Dad, fun and games for the kids, and it adds tremendous value to your home.
A Swimming Pool and Spa are the Perfect Gift this Holiday Season
An in-ground concrete swimming pool will last for decades. It's the gift that keeps on giving.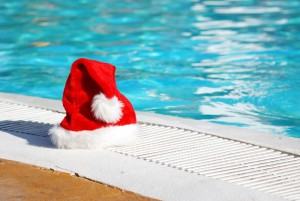 Enjoy year round entertainment. Many holiday presents ends up in the closet by the New Year. That definitely won't happen with a swimming pool! Instead, everyone is entertained all year long. Our warm tropical environment in Central Florida means the pool is open 12 months out of the year.
If you're already thinking ahead to those New Year Resolutions, swimming and playing in the pool are a great way to get your exercise!
A Backyard Oasis that fits your family. Customize your very own backyard oasis, rock waterfall, caves, swim up bar, hot tub, beach entry, and infinity edge. You can also design your new swimming pool in any shape and size. If though you backyard wasn't big enough for a pool, think again!
Dreamscapes Pools and Spas
Whether you are building your swimming pool during the construction of your new home or in your existing backyard, Dreamscapes Pools and Spas professional design team will listen to you and create an amazing design, using the latest 3D design software, that meets your budget. If you are looking for a simple budget friendly swimming pool or a tranquil resort pool, we have the talent and experience to make your space remarkable at a price you can afford.
Dreamscapes Pools Construction Team is dedicated to making your dream pool a reality. We provide the highest level of communication and attention to detail throughout every phase of your project.
Contact Dreamscapes Pools and Spas today for a free quote.