Since we live in the tropical paradise of Central Florida, swimming pool season is all year long! The amazing weather makes sitting by the pool and relax, taking time for exercise, and just having fun with the family easy.
Now Is The Time To Contact Dreamscapes Pols and Spas To Make Your Dream Backyard Pool And Oasis Come To Life.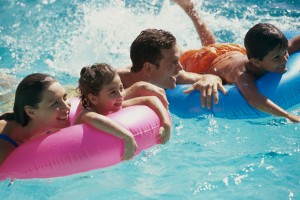 Designing a Tropical Oasis 
We all have the image of a paradise hideaway in our head. The first step is to figure out how to bring it to life in your backyard. A free form swimming pool, great amenities, a fountain or a water fall, a cabana, outdoor kitchen, and the perfect landscaping, to bring it all together. You'll end up spending all your home time in your backyard oasis. 
Cultivate the Natural Approach 
While the swimming pool is the focal point, a natural themed design has romantic elements. Such as the beauty of a lazy fountain or a gentle waterfall. Don't forget the hot tub! Tropical plants, trees, and shrubs add serenity and greenery. 
Hotel Style Resort 
Beautiful resorts always have inviting lounge chairs. Where you can easily unwind and enjoy the time spent relaxing around the pool. The calming sounds of a waterfall as you catch some rays. A tanning shelf, slide, rocks, and even a cave can take your pool to the next level. 
Have Questions About How To Make Your Dream Pool Come To Life?
Building a backyard oasis can be overwhelming, but Dreamscapes Pools and Spas is here to help. Our new 3D computer technology allows you to see exactly what your swimming pool will look like before construction even begins. Best of all, it is more affordable than you think! 
Take The First Step By Contacting Dreamscapes Pools and Spas, You Will Be Glad You Did!