An in-ground swimming pool is the perfect addition to your Central Florida back yard. With an experienced pool builder, the process is easy and fun. Choosing the size, color, and design. But what makes your pool truly unique and fits your lifestyle are the add ones and amenities. Don't worry, they won't add as much to the budget as you think.
Top Swimming Pool Amenities That Add Pizzazz To Your Backyard 
Water Features
If you want an eye catching pool that makes you feel instantly relaxed when you walk outside, then a water feature is a must! The tranquil sound of cascading water combined with the serene visual effect, makes the perfect space to unwind and relax.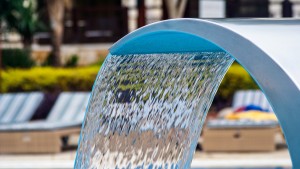 Waterfalls: There are an endless design options with waterfalls, from flagstone, spa spillovers to natural rock waterfalls. They always add a touch of elegance and peaceful sound.
Sheer Descents: Are becoming increasingly popular, straight, linear water feature that drops water from a higher angle, creating a sheet of water falling into the pool.
Grotto: Adds an exotic, tropical element, creating a small cave with boulders and rocks where water runs off.
Bubblers: Are being added to tanning ledges to give that spa feeling, making it easy to relax and unwind in the pool.
Splash Pads: A water playground, fun for any age and a great way to cool down on hot summer days. Inviting streams of water shooting, splashing and misting from fun nozzles, an interactive experience everyone will love!
Wok Pots: Large pots of various shapes, designs, and colors, sit on the deck and have an open spill into the pool. Relaxing sound and elegant look.
Laminars & Deck Jets: A fun addition to any pool, streams of water shooting from the deck into the pool. When they are backlit with LED lights, they look amazing at night.
Swimming Pool Lights
Underwater lights make your pool come to life when the sun goes down. Making swimming at night fun and enjoyable. While adding ambiance that is perfect for entertaining. 
These are just a few of some of today's great swimming pool trends. If you are thinking about investing in a new pool or updating your existing one, contact Dreamscapes Pools and Spas. We can help incorporate your favorite features in an amazing backyard oasis while staying on budget!
Contact Dreamscapes Pools and Spas today for your backyard oasis!