Gunite or concrete swimming pools have several advantages, which is why they are so popular. Also, because they are beautiful, last decades, add tremendous value to the home, and when it comes to design options, you can let your imagination run wild.
The award winning design team at Dreamscapes Pools and Spas incorporates the newest 3D technology to help you envision exactly what your new swimming pool will look like. From the moment you open your back door and walk out to your patio, you can practically feel the refreshing water and experience all the amenities of your choice.
The advantages of a gunite inground swimming pool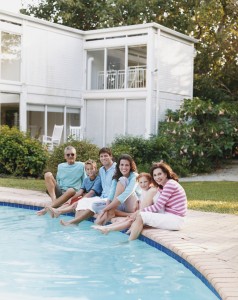 They last for decades and are very durable, they won't tear or rip like vinyl pool liners or fiberglass.
Concrete swimming pools can fit any size yards. No matter what shape yard you have, even if you think it may be too small.
They can also be any design and shape you can imagine, to fit your needs and lifestyle.
While gunite swimming pool practically lasts a lifetime, they also take a little bit longer to build. But they are definitely well worth the wait.
You can choose from a multitude of finishes and colors, natural colors and textures to create a natural environment or flex of quartz and led lighting for fun entertaining.
There is also practically an endless amount of amenities to choose from, a tanning ledge, a cave, fountains, and a swim up bar, the list goes on and on.
Swimming pools increase the overall value of your home. In fact, it is an investment that pays for itself.
There are many decisions to make when it comes to a new swimming pool. The team at Dreamscape Pools and Spas work directly with you in a relaxed, no pressure environment to create your perfect backyard getaway. We'll work together to design an outdoor living space that reflects your own personal style, taste, and budget.